23. januar 2022
Value investing across global credit markets during 2021 continued to deliver
By The Corporate Credit Team
Absalon Global High Yield again delivered superior returns in 2021 relative to both peers and the overall market; as it has done since inception (March 2015).

A few things to remember when looking at the chart below:

Recent performance is a continuation of the 15-year track record established by the same team

Value investing in credit continues to deliver consistent excess return

Indices do not take account of transaction costs – our returns do

Most of our peers allocate based on a market cap weighted index – we do not

The most attractive opportunities are rarely to be found in the largest credits

We believe that in 2022 you will still need to be active, bottom up and focused on value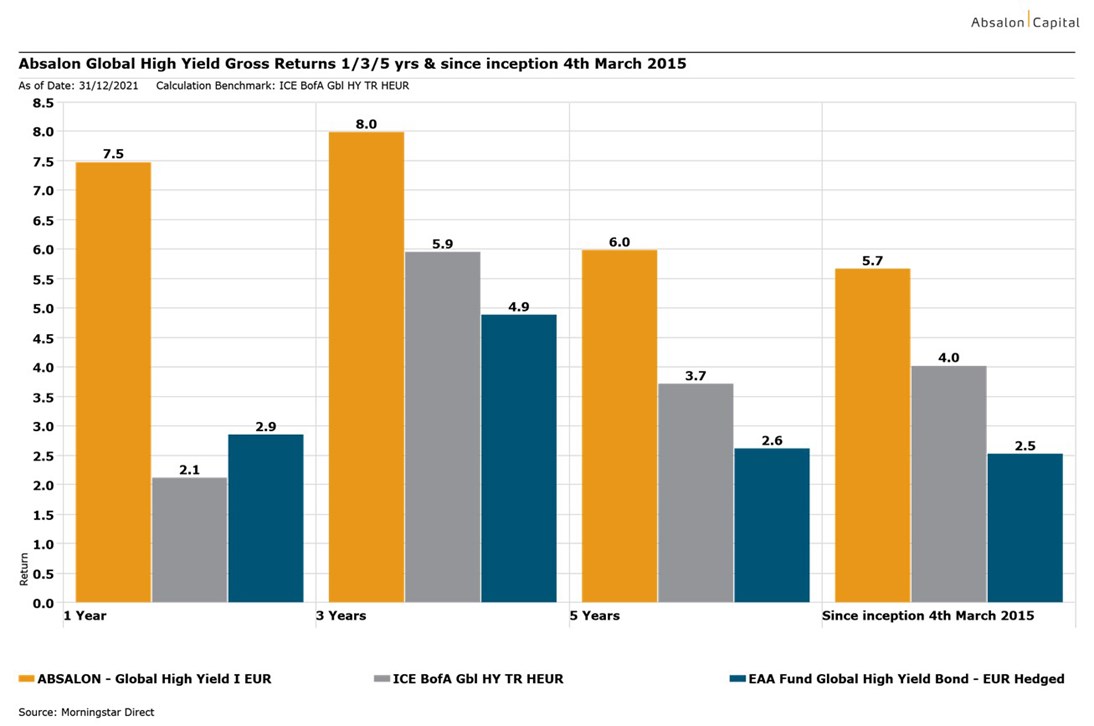 Read more about our funds
Disclaimer
The above information is marketing material and has been provided for information purposes only. The information cannot be considered as financial advice or as an offer of any other investment advice. It is recommended that the investor contacts their own investment adviser for individual information about a potential investment, tax conditions et cetera before the purchase or sale of securities. Please note that past performance is no guarantee of future performance. The information was obtained from sources, we believe to be reliable, however we cannot assume any guarantee for its accuracy or completeness.  
Investment decisions should be based only on the current Sales Documents (Key Investor Information Document – KIID), Sales Prospectus and Articles of Association and, if published, the most recent annual and semi-annual report). The Sales Documents are available free of charge from the custodian bank (Brown Brothers Harriman) or the Investment Management company Universal-Investment- Luxembourg S.A. (www.universalinvestment.com) and the distribution partners.